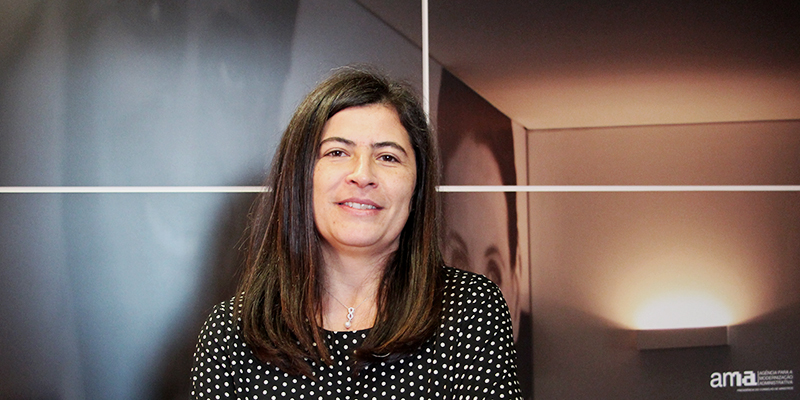 Sara Carrasqueiro
Sara Carrasqueiro is a member of the Administrative Modernization Agency's Board of Directors since March 2018. She has a degree in Electronics and Computer Science and a Masters in Clinical Engineering.
Throughout her professional career, she held multiple positions in private and public entities, providing consultancy services in strategic management, auditing, project and quality management, engineering and information systems, specifically regarding the national health system, namely in the eHealth Network, where she participated as a European Commission expert.
From 2012 to 2018 she collaborated with SPMS - Shared Services for the Ministry of Health of Portugal, where she had leading positions directing and coordinating departments related to the national health information ecosystem, enterprise architecture and auditing, national registries and interoperability platforms, international projects, among others.
Sara Carrasqueiro is also a researcher in these areas, focusing specifically on Public Governance and Administrative Modernization and Innovation. She collaborates with different academic institutions, namely with the University of Lisbon, where she teaches Shared Resources Management and eGovernment.
Paulo Mauritti
Paulo Mauritti is on the Administrative Modernization Agency's Board of Directors since April 2018.
He started his professional journey as an attorney and a university lecturer. During his long experience in the Portuguese public administration, he worked as Legal Adviser, as Human Resources and Training Director in the Citizen Shops Management Institute, and as Deputy Director of the Directorate-General for Regional Development and of the Directorate-General of Local Administrations. He was also the Head of AMA's Legal Department and a member of AMA's Board of Directors in 2015.
Paulo Mauritti was a member of the Joint Committee constituted under the Collective Agreement for the General Careers of 2009, in which he was the official representative of the public employing entities. Besides, he acted as the representative of the Secretary of State for Local Administration in the Monitoring Committees for the Regional Operational Programmes in the Portuguese mainland. During his career, he also acted as advisor for different government members and was the Chief of Staff of the Secretary of State of Energy.